BLACKYAK TECHNOLOGIES
For us a product is not just any product. No matter if a t-shirt or hardshell jacket, bouldering shorts or touring pants: each of our products contains a lot of detailed work and technological know-how. In the past years we have also worked on many of our own technologies that turn BLACKYAK products into high-tech clothing. Most of these technologies are not visible from the outside and are sometimes very complex. We would be happy to show and explain them to you!
YAK LUMIS™
YAK LUMIS™ This technology is a passive safety enhancement that BLACKYAK has integrated into several garments. It was designed to offer its wearer a "second chance" when using it under low light or even night time circumstances. Using specialized equipment and techniques BLACKYAK has taken established reflective technologies and integrated them into the manufacturing of its products. The result is a very low-profile tonal appearance under normal light conditions. However, using the properties of refraction and reflection, light is being reflected back towards its source when the area is illuminated by light.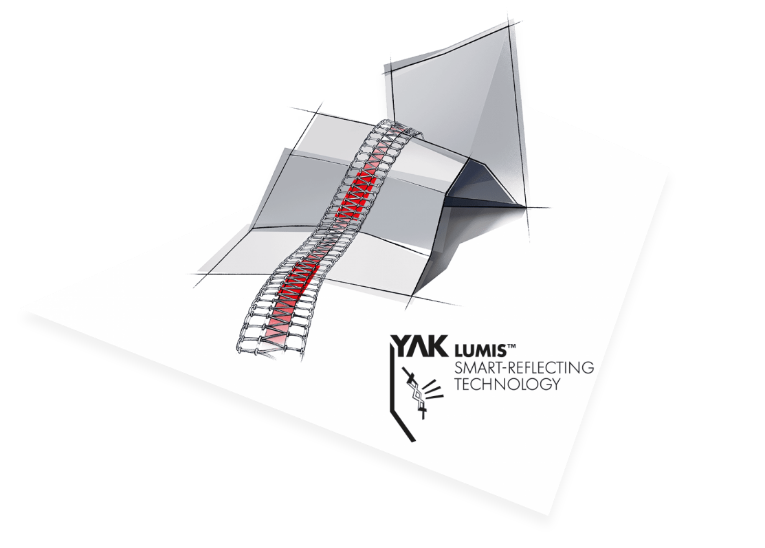 YAK BOX-WALL™ Air Flow
YAK BOX-WALL™ Air Flow Construction is an innovative construction for down jackets which decouples the cold exterior of a textile from the insulation layer.
Using this technique, thermal efficiency of the product is significantly increased. The
YAK BOX-WALL™ performance is further enhanced through the use of chamber-to-chamber transfer channels. This allows warm air inside the garment to move from chamber to chamber rather than venting to the atmos-phere as is the case with traditionally insulated manufacturing methods.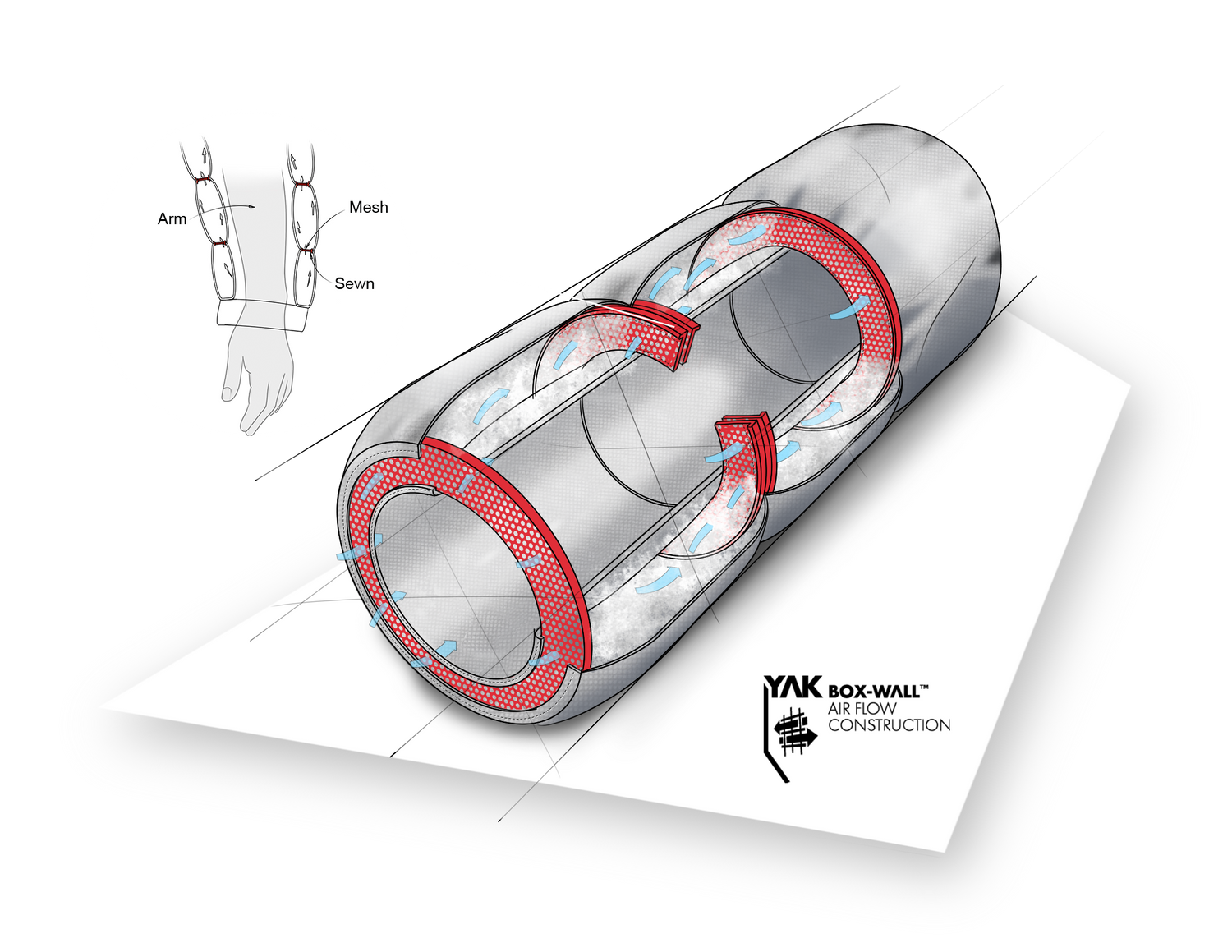 YAK HOOKS™
YAK HOOKS™ Lock & Hold Protection brings added durability, ease of use and visual appeal to the cuff area of our garments.
The unique design of the hooks minimises abrasion and pilling while the pre-curved finish ensures the cuff tab always rests in the closed position.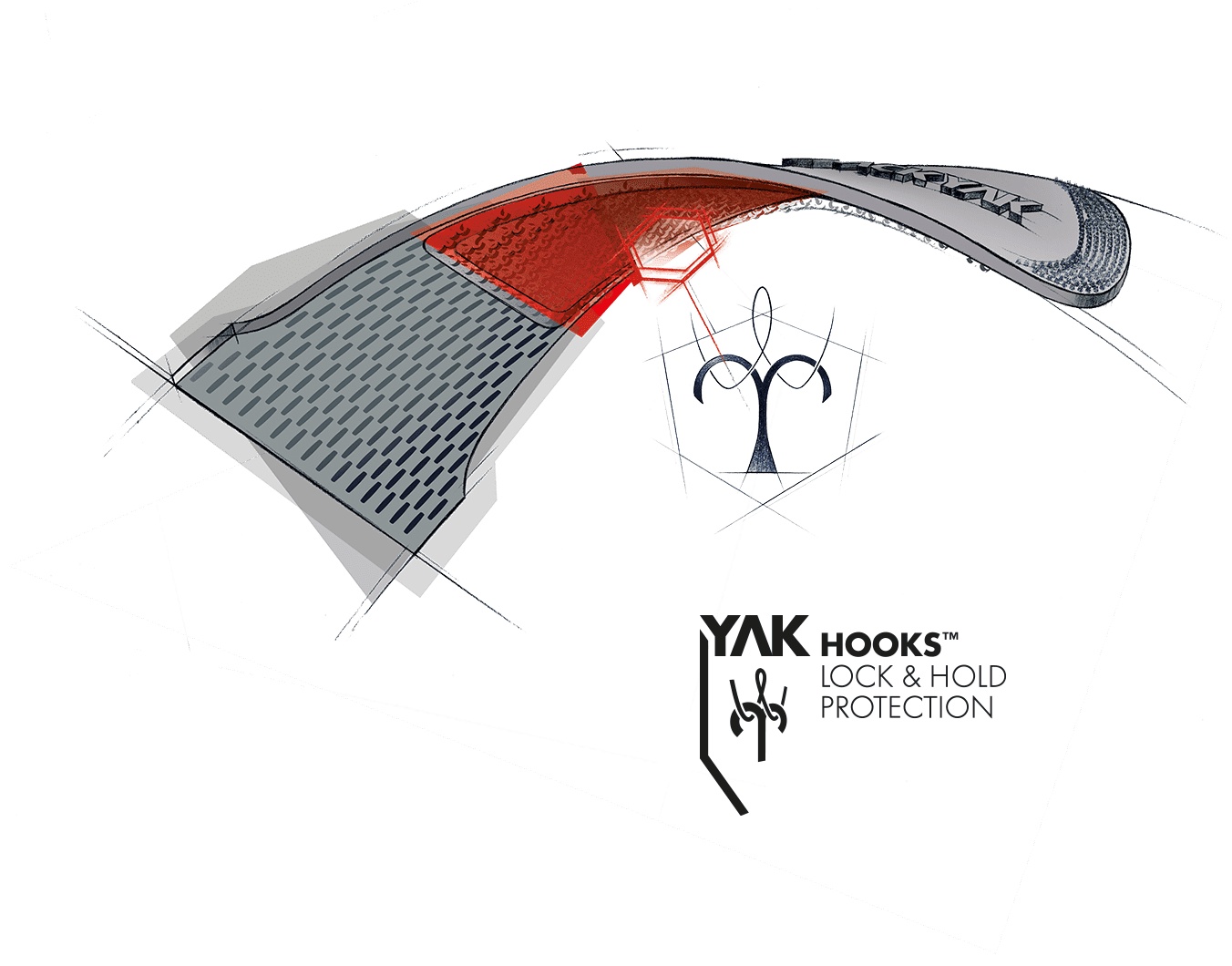 YAK TWIN CHAMBER™
YAK TWIN CHAMBER™ technology completely eliminates thermal bridges in down jackets. The positive side effects of this revolutionary insulation construction are that the garment remains lightweight, packable and extremely comfortable.

The YAK TWIN CHAMBER™ consists of two mirrored and overlapping down chambers sewn together with an inseam construction. This eliminates thermal bridges like no other construction before. It also allows for perfect insulation and heat transfer. And it proves once again that the limits of technical development can be pushed.
YAK SEAL™ 
Cuffs, hood and hemline are the weakest points on a garment when trying to keep you dry. The YAK SEALTM Water Barrier Technology reduces the ingress of moisture significantly in these areas.
Absorption and friction from the garment create a peristaltic movement so that water moves up your jacket in a wet environ- ment. Many brands use a DWR treatment to prevent this effect, but due to the hydrophilic properties of the GORE-TEX membrane, it's just a matter of time until water passes through. The YAK SEAL™ Water Barrier Technology consists of several techniques.
- The use of dissimilar materials slows down the wicking or capillary effect.
- A ripstop weave using CORDURA® fibres creates a durable surface that impedes the capillary effect associated with other wicking barrier types.
- The small cross-sectional area of the wicking barriers means there is very little space for moisture to accumulate.
- A hydrophobic adhesive layer is used to bond the wicking barrier to the main garment textile.
- Finally, a durable overlay film seals the edge of the structure.
- The net effect significantly increases the garment perfor mance in three different axes.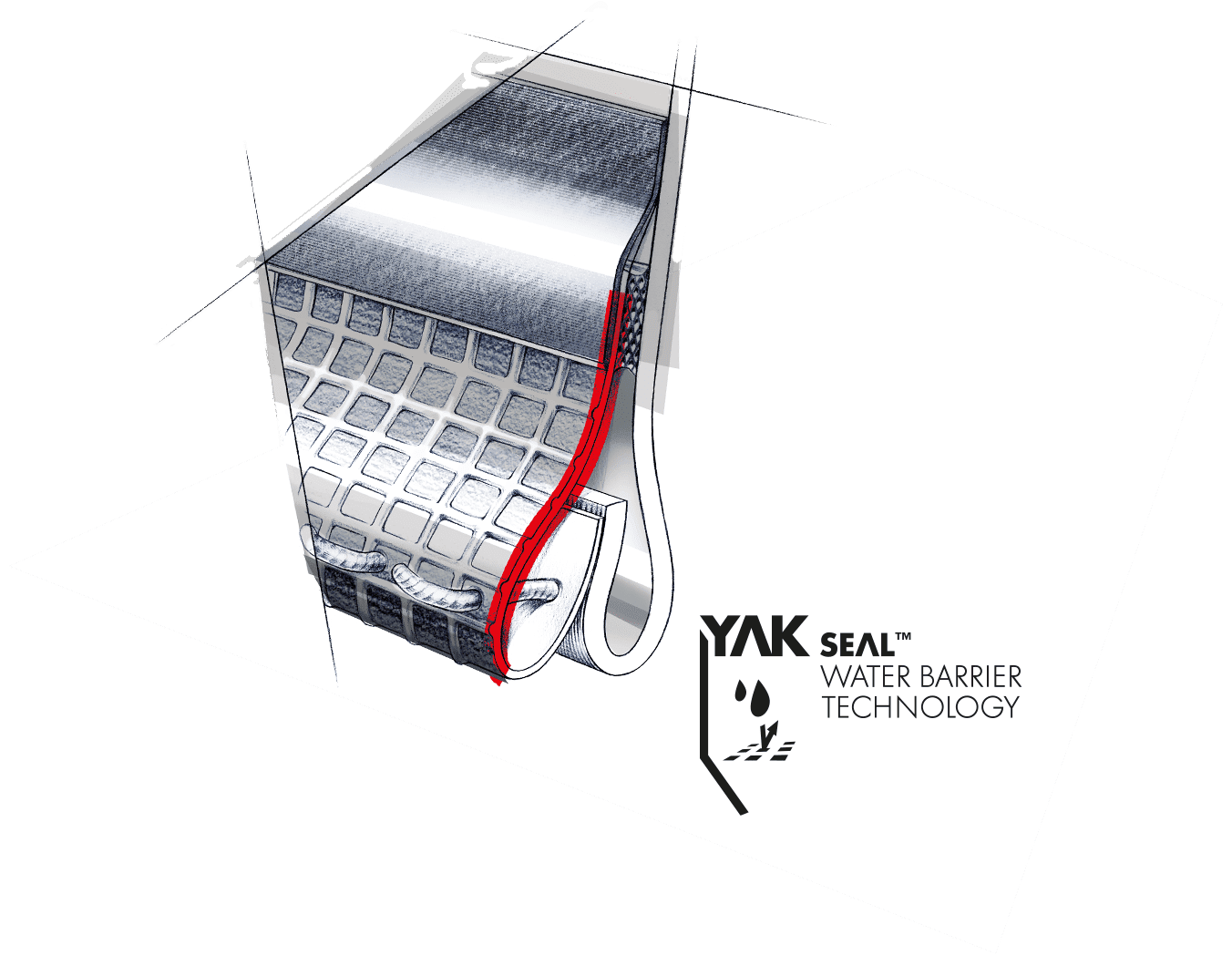 YAK BUTTERFLY CHAMBER™
YAK BUTTERFLY CHAMBER™ is designed to have no exposed seams. This significantly increases the durability of YAK BUTTERFLY CHAMBER™ insulation products.

In addition, the chambers are smart overlapped so that the same amount of insulation is distributed throughout the product. This ensures that there are no cold bridges between chambers
YAK SKIN™ Comfort Technology
With YAK SKIN™ Comfort Technology, we have an insulation that only requires an outer layer of lining. Due to the combination of the insulation material with a carrier layer, there is no need for an inner lining. Products with YAK SKIN® Comfort Technology are therefore extremely warm and breathable at the same time.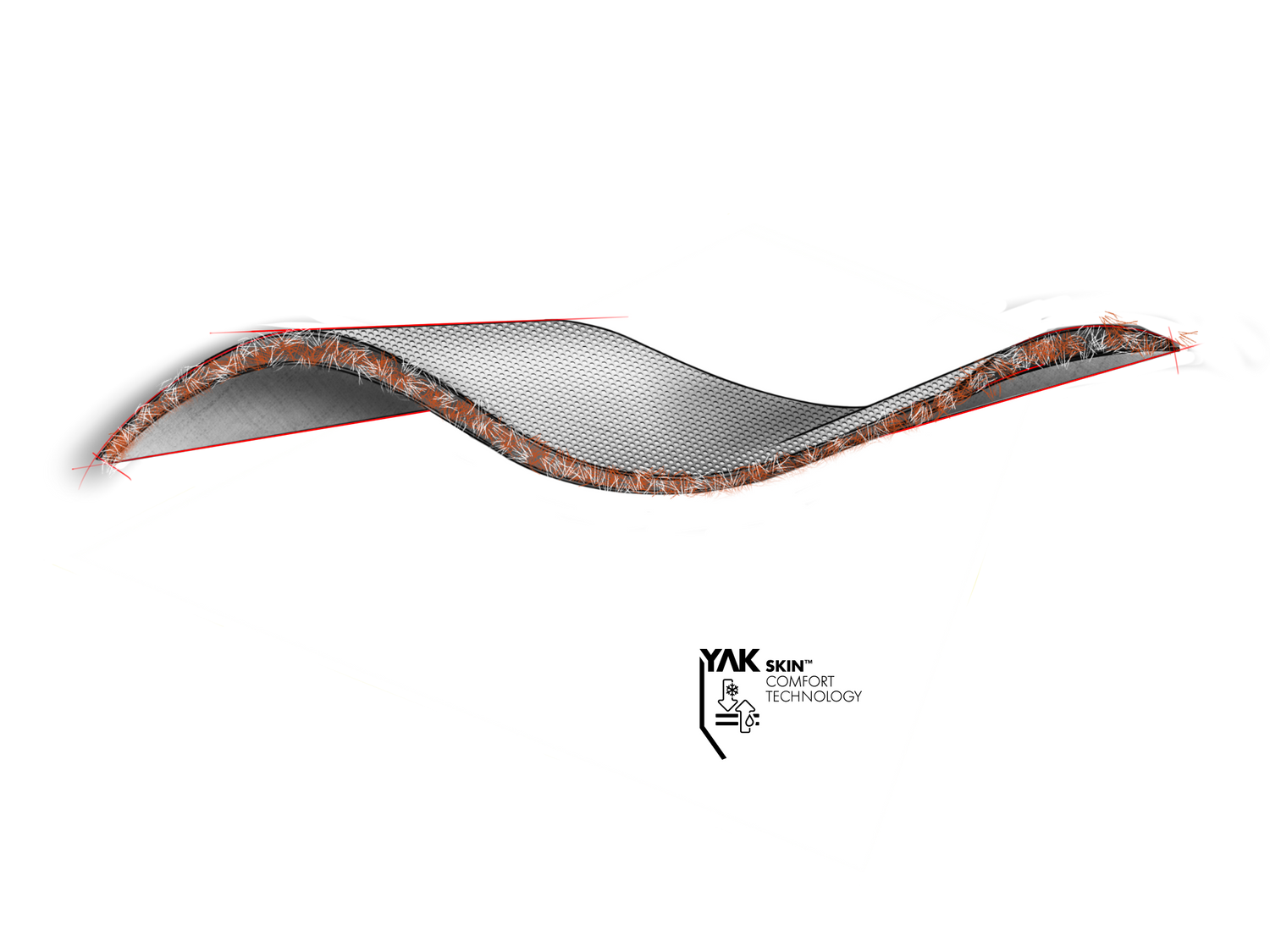 YAK MERINO SKIN™ Comfort Technology
With YAK MERINO SKIN™ Comfort Technology, we have an insulation that only requires an outer shell. By combining the insulation with a shell, there is no need for an inner lining. This means that products with YAK MERINO SKIN® Comfort Technology are extremely warm and breathable at the same time. The added merino wool has an anti-bacterial effect and helps to prevent unpleasant odors.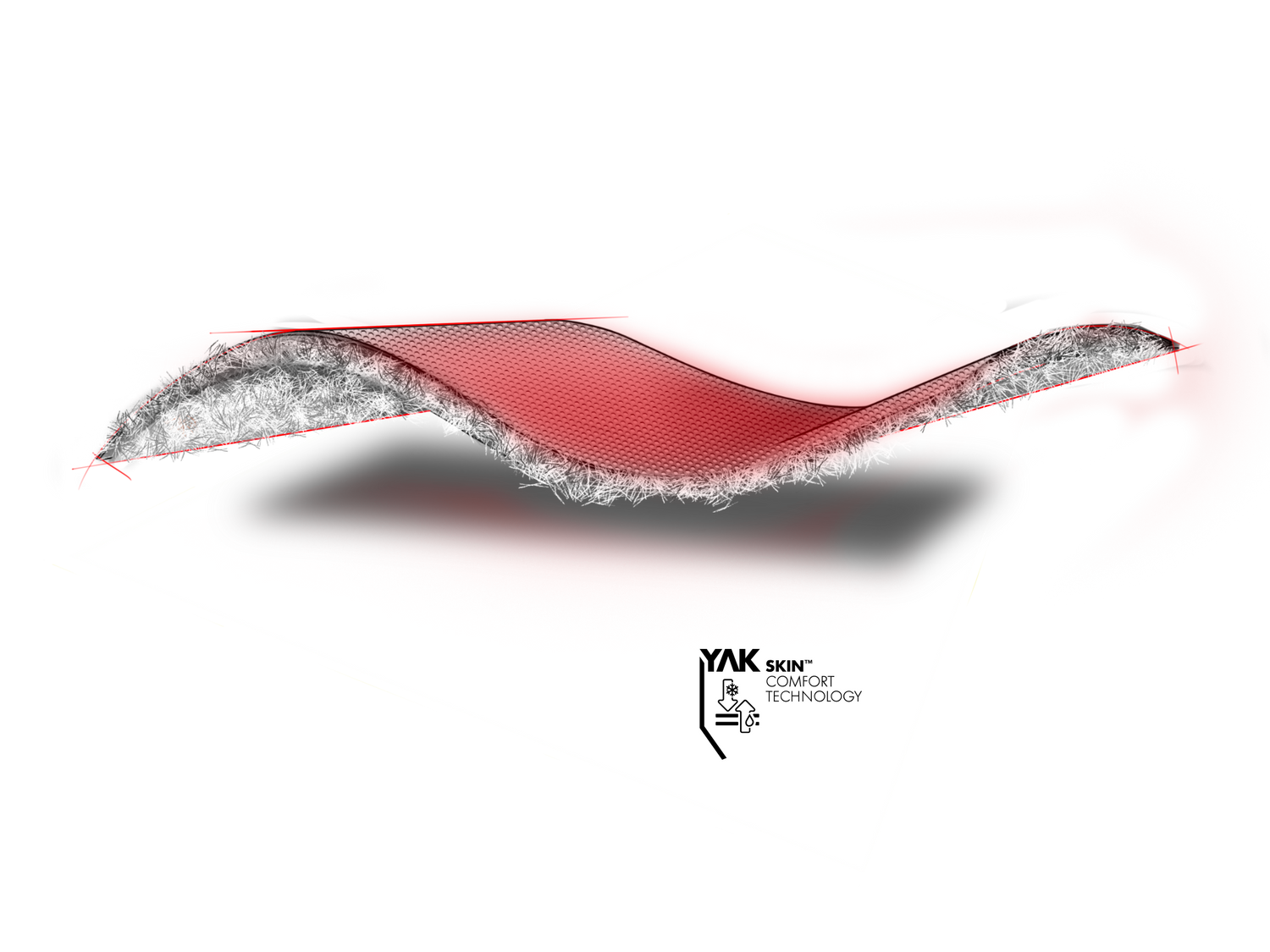 YAK GRIP™ Zipper Puller
Our YAK GRIP™ Zipper Puller is designed to make zipping safe even with thick gloves and cold fingers.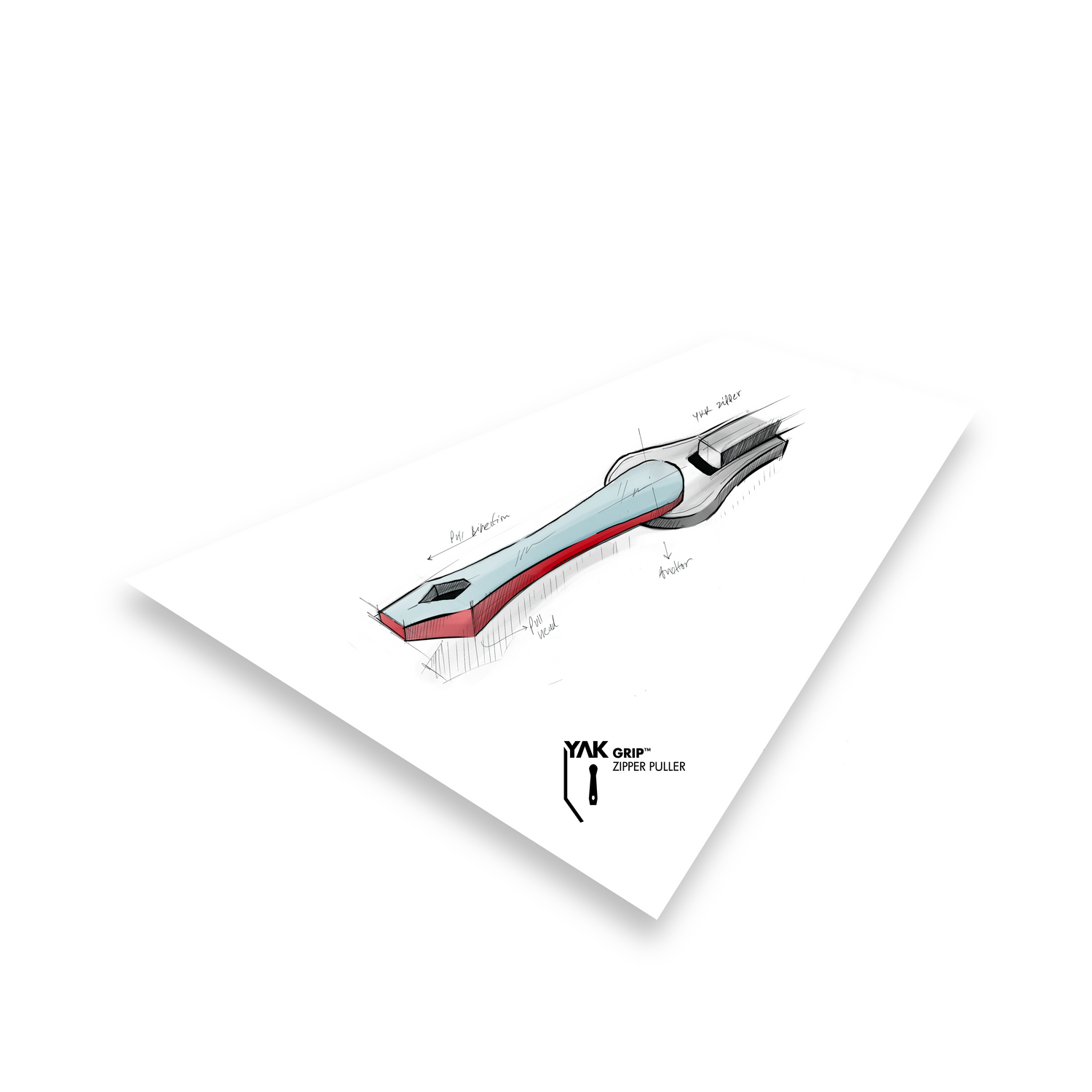 To implement our technologies, we use the most innovative materials on the market. Our partnerships with manufacturers and producers are therefore especially important to us and we are happy about our high-quality network in the outdoor industry.
Products engineered with GORE-TEX fabric are durably waterproof and windproof, combined with optimized breathability — enduring products that maximize protection and comfort for the wearer. All GORE-TEX products are covered by the GUARANTEED TO KEEP YOU DRY™ promise.

The GORE-TEX INFINIUM™ WINDSTOPPER® product technology collection offers totally windproof and breathable apparel. Designed for flexibility, functionality and style to support your active life – when comfort and performance are the priority, and waterproofness isn't.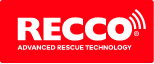 RECCO® technology is a tool for professional rescuers to help locate buried victims, enabling professional rescuers to find victims within minutes.

Warm, light and breathable - even in extremely wet and cold weather: the revolutionary G-LOFT® insulation meets the highest standards and combines the benefits of natural down with the ruggedness of a synthetic fibre.
Re:Down® recycles down and feathers extracted from post-consumer goods so that they can be reused as filling material in apparel, sleeping bags or bedding products. Broken feathers and down fibers are upcycled into a very efficient organic fertilizer.

CORDURA® is the brand name for a collection of fabrics used in a wide array of products including luggage, rucksacks, pants, military wear and performance apparel. CORDURA® fabrics are known for their durability and resistance to abrasion, tears and scuffs. CORDURA® fabrics are usually made of nylon but may be blended with cotton or other natural fibers.

Kevlar® fiber is used to make a variety of clothing, accessories and equipment safe and cut resistant. It's lightweight, durable and extraordinarily strong. It's best known for its use in ballistic and stab resistant body armour. But it's also used on the ski slopes, the switchback trails, in demanding desert terrain, even the outer limits of space.

PrimaLoft® is a synthetic microfibre thermal insulation. PrimaLoft® insulation is used inside insulated garments for its warmth, compressibility and soft comfort. While the human body uses energy to stay warm, PrimaLoft® insulation uses a proprietary microfibre structure to help the body retain warmth and conserve energy.

With a wide variety of different materials and textiles, Polartec® offers the possibility to meet demanding outdoor challenges with fun and energy – even in bad weather.